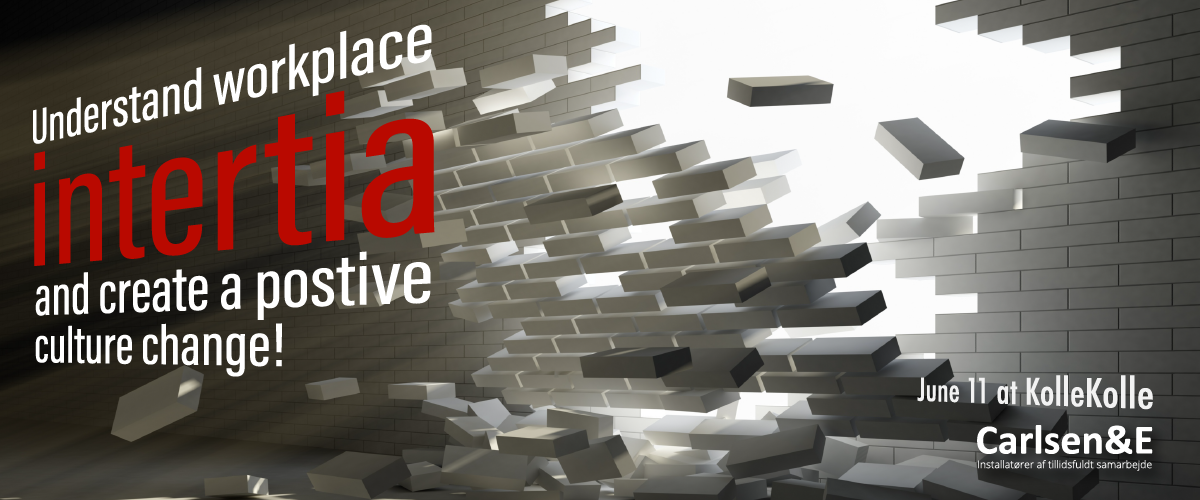 Who will be facilitating?
Eva Stenby
Management consultant with a high level of expertise in facilitating processes of change.
Jens Carlsen
Management consultant with a high level of expertise in facilitating processes of change.
Rikke Voergård-Olesen
Expert in the field of norm critique and workplace culture.
Practical information
When: June 11th 2018 – 9 AM to 4 PM. Coffee, tea, and breakfast from 8:30 AM.
Where: KolleKolle Konferencecenter, Frederiksborgvej 105, 3500 Værløse
How: Sign up via e@carlsen-e.dk
Price: 650 DKK excl. VAT.
Cancellations: Make sure to let us know well in advance, if you are unable to attend. For cancellations on the day of, call +45 2067 0044.
A tendency to do nothing or to remain unchanged.
Creating cultural change from the inside is difficult within an established corporation. Workplace culture is made up of standards for how to solve problems – standards which often carry over from year to year and can remain unchanged and unquestioned.
The world outside corporate culture is changing and people are doing their best to keep up with it and remain efficient in their work. Hence, when corporate strategies are created, they often include visions of how to change workplace culture. Ambitions may vary greatly – like wanting to create workplace cultures that foster diversity, Lean Thinking, security, cooperation, performance, passion, exercise, leadership, openness, error-free work, data-driven work, communication, sales, innovation, etc. The cultures are as varied as the individuals who think them up.
This event will be a workshop in the concrete sense of the word: a meeting during which we work. We will be exploring the topic of "inertia and cultural change" in order to boost efforts to change and find new solutions in cooperation. Carlsen&E will create the framework for several simultaneous discussion circles via Open Space Technology.
The circles will centre around the questions participants feel are important to answer, in order to find solutions to the challenge of creating cultural change. New ideas will be developed and explored through facilitated cooperation.
In short: We will help each other become better at creating change!
Takeaway from the workshop
By the end of the workshop, you will have gained:
New insights into processes of cultural change
A new network of competent people who are passionate about creating change
Renewed energy to drive cultural change in your own workplace
Hands-on experience with Open Space Technology
A catalogue of ideas from the discussion circles
A list of people who can provide further assistance
Who is this workshop for?
This workshop is for anyone passionate about developing skills for creating changes in workplace culture. You can benefit from the Open Space Technology method if you believe that gathering together passionate people in engaged discussion can lead to new insights and better ideas.
Register